THE CAVERN OF THE DRAGON – PORTO CRISTO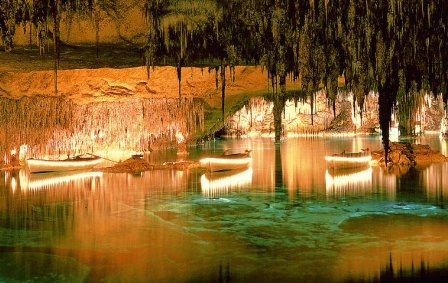 Located on Mallorca's east coast the caves are without doubt one of the island's most outstanding tourist attractions, extending for almost 2,400 metres and including internal heights of 25 metres above the cave floor. Hidden within the caves is Lake Martel, considered to be one of the largest subterranean lakes in the world, (177 metres long and 30 metres wide) on which there are daily performances of classical music featuring pieces by Caballero, Chopin, Offenbach, … After the concert one can take a short boat trip on the lake. The unequalled beauty of the caves is further enhanced by the lightning planned and set in place by the engineer Carlos Buigas.
Cave tours are in groups and take around one hour. The temperature inside is 20ºC with humidity at 80%. The route is 1,200 metres long and up and down, in total, there are some 250 steps. Sensible footwear is recommended because in places the cave floor is wet. Pushchairs are not recommended. The live concert lasts 10 minutes and is played by a quartet of musicians. This is followed by a light show imitating the sunrise of the sun over the lake. Then there is an opportunity to take a short boat trip across the lake or to continue on foot across the bridge. Inside the caves filming and photography are prohibited as are animals, with the exception of guide dogs. You are asked to follow the instructions of the staff at all times.
Tickets can not be reserved in advance of the day but daily from 9.00 may be obtained from the ticket office for any tour on that same day. Since places are limited tickets are marked with the time of the tour booked. Once bought tickets only only need to be shown at the cave entrance a few minutes before the start of the tour. In high season the tours at 10.00h, 16.00h and 17.00h are normally the least busy. Porto Cristo is 500 meters away and offers a large range of shops, bars and restaurants. The beach is located next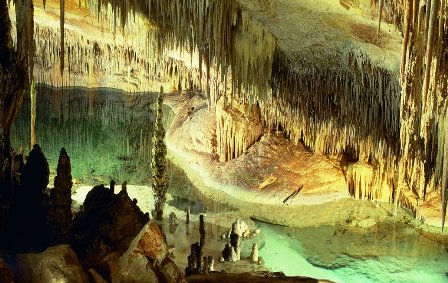 to the port from where it is possible to take boat trips along Mallorca's east coast.
Porto Cristo is a very sheltered bay with a beautiful extensive beach of fine sand and shallow water. In this old fishing village it is possible to discover numerous hotels, bars, restaurants and a large shopping area. Recommended are the boat trips from which you can see down to the sea bed.
Porto Cristo is also a natural harbour, used for both fishing and sport, which despite modernization has not lost its natural charm. The features which make it stand out especially are the beach and the natural caves of Drach and Hams, the most visited on the island.
Please use the following direct link to get full information about the "CUEVEAS DEL DRACH" in Porto Cristo – Mallorca :  HOMEPAGE CUEVAS DEL DRACH
---