MALLORCA FASHION OUTLET
…is one of the largest shopping miles in Mallorca located in Marratxi, near to the popular village of Santa Maria del Cami. The mega-shopping temple was opened in 2002.
On the area of 35,000 square meters it offers about 40 restaurants and a total of 25 shops, boutiques and factory outlets as Reebok, Diesel, Mango, Quicksilver, Lloyd Shoes, Camper, Nike and many more.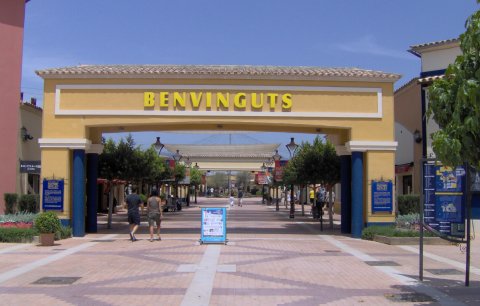 The shops of the MALLORCA FASHION OUTLET do mainly offer sports and leather ware like shoes, bags and leather garments. In addition the boutiques offer decoration and stationery. In the outlet stores you can find many bargains.
An oversized 3D cinema with 20 theaters a shows the latest movies. Further the Festival Park offers a bowling center, a skating rink and a disco. For the kids they have a Barbie museum and a carousel.
Further attractions all around the year: Pageant and fashion shows, vintage cars and other exhibitions and concerts of all genres. Clown and magician shows fort he kids will be shown. On the occasion of major sporting events such as Football Championship or World Cup, the organizers offer public viewings on large screens.
The MALLORCA FASHION OUTLET can be reached via the motorway Palma – Inca taking the exit Sa Cabaneta approx. 7km behind Palma but also easily by bus or train. The Festival Park holds its own station. From there it's only a short walk to the park entrance.
A large, free parking for 3,000 vehicles is available. The shops, all restaurants and cafes are open from Monday to Sunday from 10 am –  22 pm.
MORE INFORMATION : MALLORCA FASHION OUTLET – HOMEPAGE
---